Gülügjab Tangghudai
Khan of The Silver Horde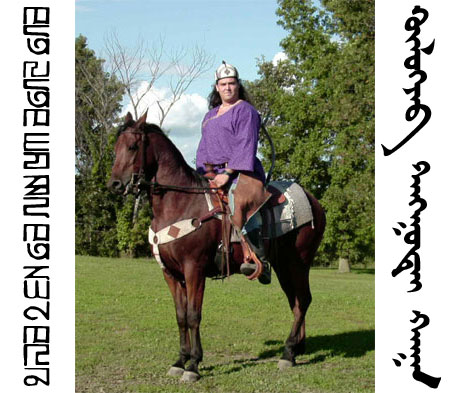 A Brief Biography
Luigi Kapaj has been training in Chinese Kung Fu his whole life with his father as his first instructor, then formally taking classes with Grand Master Alan Lee at the Chinese Kung Fu Wu Su Association in his native New York City starting at eight years old through the present day.
Around the late 1980's, Luigi first got interested in Mongolian history and weapons through the historical re-enactment group The Society for Creative Anachronisms (SCA) which developed into a lifelong hobby and he is now considered the local expert on the subject with that organization. By the mid 1990's, Luigi got involved with local Mongolian cultural groups which gave him unprecedented access to Mongolian experts on their traditional history and martial arts. It was around this time he met his wife Mendee who is a native of Mongolia and also became a student of Batjargal, a champion of traditional archery in Mongolia with numerous accolades, becoming one of the few Americans to learn the same archery technique used in the Mongol Empire. In 2005, Batjargal invited him to participate in Naadam in Ulaan Baatar alongside the best Mongolian archers where he was the subject of every major news medium in Mongolia. Luigi has an article published in the Winter 2006 issue of Primitive Archer about the experience.
Luigi founded and heads Monggulig Ordu, (the Silver Horde) a club specialized in re-enactment of all aspects of the Mongol Empire, and runs a small business importing cultural items from Mongolia through the website NYCMongol.com. In 2001, he began training in Mounted Archery under the Hungarian Master Kassai Lajos, the reviver and founder of the modern sport. At the same time, he also befriended and became a student of another master of Mongolian archery, or Mergen as they are known in Mongolia, Monkhtsetseg. Luigi has attended many local lectures on the subject of Mongolian history and continued much independent study with the help of the likes of Prof. Bazargur who is best known for identifying the likely location of Chinggis Khaan's burial site. From the intersection of Luigi's interests in historical research, Mongolian and Chinese martial arts, horseback riding and SCA style historical combat, he has been able to reconstruct the lost Mongolian warrior's sword and shield fighting style and continues to try and perfect it.
Luigi is a Software Engineer by trade and teaches Computer Science at CUNY - The College of Staten Island.
Other Interests:

Vacation & Travel:

---
© 2002 - 2013, by Luigi Kapaj, in the SCA: Gülügjab Tangghudai (Puppy)
Send comments to Puppy@ViaHistoria.com
return to the Silver Horde home page.


Please visit our sponsor.